No Keystone XL Poster Kicks Off @FrankeJames' 'Oh No Canada!' Protest Art Show in Washington, DC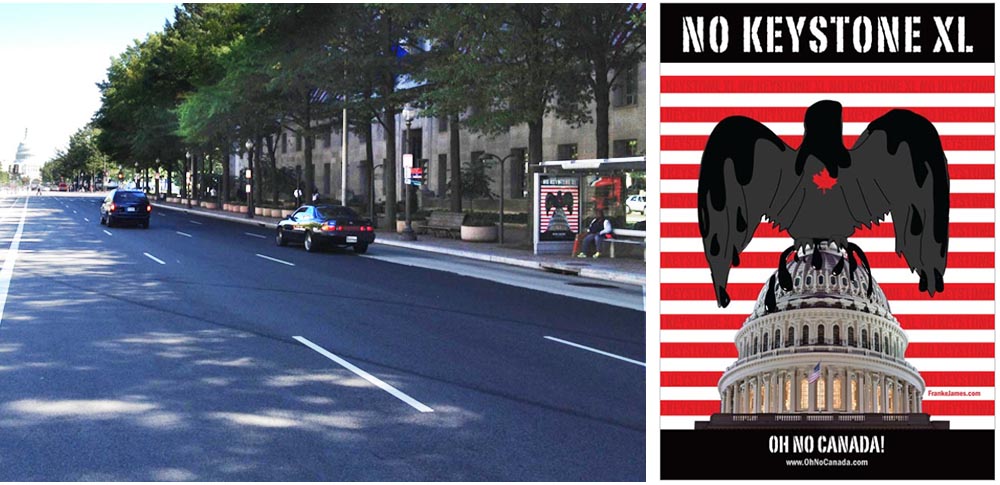 No Keystone XL poster by Franke James. (Photo: Andrew Green)
Location: 911248: Pennsylvania E/O 10th, Washington, DC. Full Screen (random reload)
Hey, what's that No Keystone Eagle poster doing in the transit shelter on Pennsylvania Avenue? Well, it's quite a story… Read a little bit of what Canadian artist Franke James has been through to make that poster appear on the streets of Washington…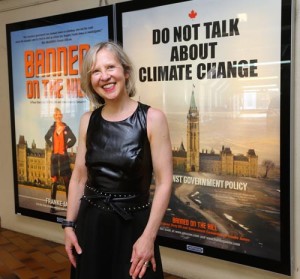 Franke James: Banned on the Hill (Parliament Hill that is!)
The pro-oil Canadian federal government is gagging artists and scientists, trampling Canada's long record as a global leader in environmental protection and human rights, all to promote tar sands, the dirtiest source of oil on Earth. Franke James is one Canadian who isn't taking it. She has been called, "a wicked thorn in Stephen Harper's side" and a 'troublesome artist.' Why? All for asking tough questions about Canada's dirty oil, leaky pipelines, and failing environmental record. Her story "What is Harper afraid of?" has motivated nearly 8,000 people to write to Ottawa to register their concerns.
Suzanne Goldenberg at The Guardian UK wrote, "Canada, under the government of Stephen Harper, has exhibited little patience for dissent. The government has muzzled government scientists, insulted Nasa climate experts, and dismissed environmental protesters as dangerous radicals.
"But there is apparently one woman whom the government can't shut up: the Toronto environmental writer, illustrator and activist Franke James, who turned the efforts to silence her into material for a new book.
"Banned on the Hill: A True Story about Dirty Oil and Government Censorship, released this week, shows how Canadian bureaucrats tried to silence James because her views on climate change clashed with the Harper government's push to develop Alberta's tar sands.
"The story is told through visual essays as well as official emails obtained by James, in which government bureaucrats discuss the troublesome artist and her work."
James' 20-city European art show was cancelled as a direct result of behind-the-scenes government interference by high-level bureaucrats, including the Deputy Director of Climate Change, Jeremy Wallace, a Canadian Ambassador, Scott Heatherington, and a Senior Trade Commissioner in Berlin, Thomas Marr. According to the internal government documents, James was censored because her art was "advocating a message that was contrary to the government's policies on climate change."
The artist has vigorously and creatively fought back against the government's interference and censorship calling it an infringement on her right to free expression. James used freedom of information laws to obtain 2,172 internal government documents concerning herself. She has mounted two crowd-funded art shows to protest the silencing of environmental voices. The first show took place in 2011 in Canada's capital city, Ottawa. James has organized a new outdoor crowd-funded poster show to coincide with the publication of her new book, Banned on the Hill. It features an ominous art work inspired by the Canadian government and James personal experience of being censored. The work shows the Canadian Parliament Buildings dropped into tar sands with the words, "Do Not Talk about Climate Change. It is against government policy." The poster show is travelling to Canadian and U.S. cities. James' environmental political art will be appearing on the streets of Washington, D.C. starting September 24th. (Visit Franke's site to see more of her environmental artwork.)
Follow @Oh_No_Canada and @FrankeJames on Twitter for more news.
Hear Franke James at Georgetown University: "Speaking up for the climate and against censorship" Wednesday, October 9th at 6:30pm