Franke James speaks at Georgetown University in Washington, DC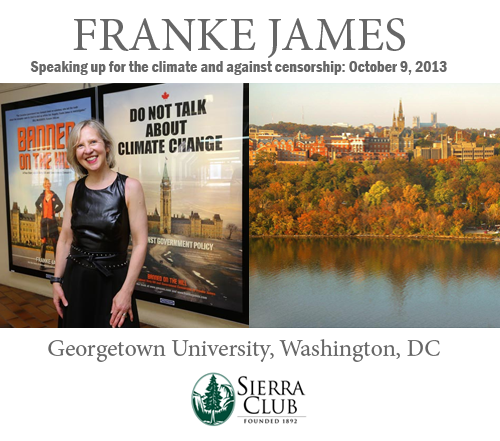 FEEDBACK ON FRANKE JAMES' TALK:
Alexis Bay, Beyond Oil Intern and Senior at the University of Texas Pan-American wrote, "Franke James' presentation at Georgetown University resonated with me because of Franke's resilience in the face of a situation many would step away from. Instead of being bullied into silence she spoke out as many of us should when our governments are not acting in the interests of their people. Not only did she speak out for herself but in doing so speaks out for many of the activists, youth, and scientists engaged in the struggle to preserve our planet by stopping the expansion of Alberta tar sands. I learned a great deal about the political situation in Canada, something we may not think about often, even though they are our neighbor to the North. If more people knew about Franke's story, they would pay a lot more attention to Canada and Prime Minister Harper.
"What also struck me is her use of narrative art as a form of climate change activism. Not only did you hear her story, you got to see it in an unconventional way. It wasn't just another power point presentation but rather a journey you were taking with her."

Courtenay Lewis, Campaign Rep at Sierra Club wrote, "Currently, the Government of Canada's behavior towards scientists, artists and librarians is not widely known in the US. However, Franke James is helping to change that, by inspiring a new wave of American artists and activists to speak out against Prime Minister Harper's aggressive attempts to develop tar sands at any cost. Franke's compelling artwork and personal story inspired the Sierra Club's Beyond Oil campaign to want to highlight her work. The Georgetown students were delighted with her illustrations, and inspired by her story of creativity and bravery."
ANNOUNCEMENT:
Do Not Talk about Climate Change? Franke James speaks up for the climate and against censorship!
Canadian author, artist and environmental activist, Franke James, is bringing her 'Oh No Canada' anti-tar sands art show to the streets of DC. James is coming to Georgetown University on October 9th for an entertaining talk on personal activism. Hear her tell her true-life story about being censored by the Canadian government – and how she is fighting back using social media, crowdfunding and the power of her activist art.
At a time when Canada's Prime Minister Stephen Harper is urging President Obama to approve the Keystone XL tar sands pipeline, artist Franke James highlights the Government of Canada's own deplorable record on climate change and its attempts to stop Canadians from talking about climate change and the dirty tar sands.
From the Guardian UK: "Canada, under the government of Stephen Harper, has exhibited little patience for dissent. The government has muzzled government scientists, insulted Nasa climate experts, and dismissed environmental protesters as dangerous radicals. But there is apparently one woman whom the government can't shut up: the Toronto environmental writer, illustrator and activist Franke James."
Event: Do Not Talk about Climate Change? Franke James speaks up for the climate and against censorship!
Date: Wednesday, October 9th
Time: 6:30 PM
Location: Georgetown University
White-Gravenor Hall, Room 211
37th and O St., N.W.
Washington, DC 20007
RSVP: Alexis.Bay[at]Sierraclub.org
Facebook event
Sponsored by Sierra Club
See Franke James' Oh No Canada art show in Washington, DC