Canada's Carbon Pollution is Rising
Extended to December 23! NEW location – Pennsylvania W/O 12 St NW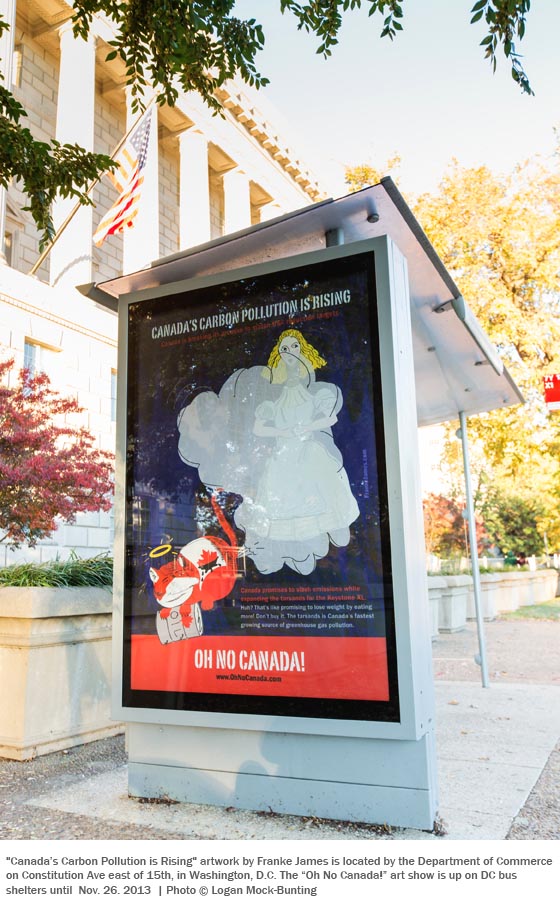 ARTWORK: Canada's Carbon Pollution is Rising
LOCATION: NEW location – Pennsylvania W/O 12 St NW, Washington D.C.
DATES: Oct 29 – December 23
SHOW: See the other posters in the Oh No Canada! art show.
NEWS: Media articles about Oh No Canada!
ARTIST: Franke James
Canada is blowing smoke. Canada's carbon pollution is rising and newly released Alberta freedom of information documents show that the oil industry is looking for weak regulations. Greenhouse gas reduction called threat to oil industry
Alberta's proposed oil and gas regulations are too ambitious and will hobble the Canadian industry's ability to compete, says the industry association in Alberta government documents obtained through provincial freedom of information laws.

The industry group says the proposed regulations won't buy any goodwill and the government should delay their introduction.

The 200-page trove of memos, correspondence and reports offers a rare glimpse behind boardroom doors at the negotiations between industry and government to craft rules to reduce greenhouse gas emissions.

The Canadian Association of Petroleum Producers offers blunt assessments of Alberta's plan to introduce rules that would demand industry reduce greenhouse gases by 40 per cent per barrel and charge $40 per tonne of CO2 above that level. More…
Meanwhile, lobbying by The Canadian government continues. Joe Oliver, Canada's "oil minister" is reportedly "feeling hopeful about Keystone XL"
The $5.3-billion Keystone XL pipeline would transport 830,000 barrels of oil a day, primarily from Alberta's oilsands and the Bakken formation in North Dakota, to refineries on the U.S. Gulf Coast.

But the project has faced fierce criticism from environmental groups in Canada and the U.S. about possible pipeline leaks and its potential to increase greenhouse gas emissions from the oilsands.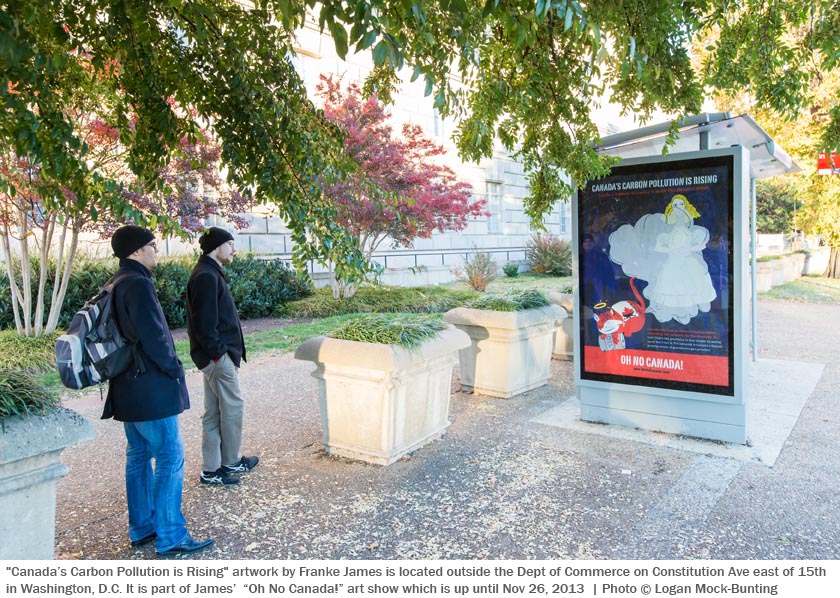 Help spread the word…
Leave a comment. Share on Twitter, Facebook or Google Plus.
Buy an Oh No Canada Poster.
Credits: Posters by Franke James. Photos by Logan Mock-Bunting in Washington, D.C.